Mr. Abubakarr Bangura, a former Temporary Return of Qualified Nationals (TRQN) participant and a now recurring CD4D participant has been praised for the contributions he has made to his home town, Makonkarie, Yoni Chiefdom in the Nothern Part of Sierra Leone.
Not counting his contributions to Sierra Leone and the IAMTEC University in Freetown through his participation in the CD4D project, he has constructed a four classroom block, staff room and supported the renovation of the only primary school in his village.
He also owns a Palm Oil plantation to which the profits are reinvested into the school in order to support it.
Mr. Bangura recently returned to his village, on the 25th November, 2017, to conduct a guided tour of the Palm Oil plantation and collect his voter ID Card.
His outstanding contributions to the village have led some of the villagers to ask him whether he would run for the parliamentary seat in the Chiefdom. Mr. Bangura responded, however, that his decision to go into politics would not be taken alone and he will have to consult his family, friends and business partners.
In the meantime, he wants to focus on his village's development aspirations and that of Sierra Leone.
During his trip, Mr. Bangura also took the opportunity to follow-up on an online entrepreneurship program he introduced a few years ago to the country. His purpose was to track its progress and to exchange ideas with the programme's participants.
He also recently set-up a entrepreneurship incubators for tertiary institutions in Sierra Leone on which he is currently working very hard on to ensure the smooth visit of four senior lecturers from tertiary institutions to the Netherlands in January 2018. The visit will provide these lecturers with the necessary tools to set-up their own business and entrepreneurship incubators across universities in Sierra Leone.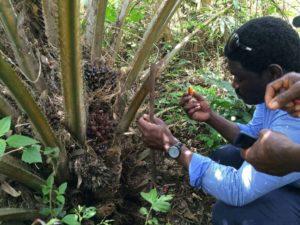 Source: The Office of Diaspora Affairs, Sierra Leone Facebook Page