Within the framework of IOM's Connecting the Diaspora 4 Development (CD4D) project, Barisdot Consultants, a Ghanaian diaspora group based in the Netherlands, has completed the training of 46 staff of Saint Dominic Hospital in healthcare management. The face-to-face training, which started in February 2016, ended 25 September, 2017.
Healthcare delivery in Ghana is faced with many challenges. Huge paper trail and the absence of an efficient means to digitally capture, transmit, store and retrieve patient information are some of the many challenges. It is not uncommon to see patients in long winding queue, wasting enormous time to see a physician.
The objective of the training was to share best practices in healthcare management for effective healthcare delivery. The topics covered included; effective health care delegation, conflict and negotiation as well as IT governance and auditing. The project beneficiaries were also trained in the use of a newly installed IT   management software.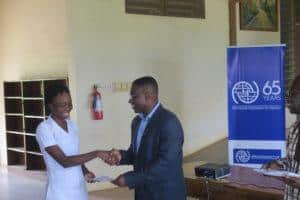 Among the project beneficiaries were nurses, ICT officers, pharmacists and laboratory technicians. It is expected that the training will contribute to improve access to patient information and reduce the time spent in seeing a physician at the hospital. The Administrator of the Hospital, Rev. Fr Ebenezer Kenneth Abban noted 'the topics covered were very detailed and will help in the roll out of the new software, for effective healthcare delivery and revenue mobilization.
The training was described by Nana Barima Asamoah (IV), a member of Barisdot Consultants, as critical in contributing to effective scheduling of appointments for patients, improving the hospital billing system for revenue generation and minimising waste due to better logistics and drug management.
Mr. Augustine Tano, a Dutch-Ghanaian and a member of Barisdot Consultants, described the opportunity to give back to the country of his birth as a realization of a dream. "As a migrant, it was my desire to experience a different culture and pursue higher education for the advancement of my country. I am humbled today, as I witness the realization of this dream".
The CD4D project is funded by the Dutch Government and is targeted at supporting the development of selected priority sectors in six developing countries. This is achieved through the transfer of knowledge and skills of competent professionals within the diaspora community in the Netherlands, to selected priority sectors in developing countries. The International Organization for Migration (IOM) office in The Hague is the project management site. The office works to identify and facilitate the travel of professionals within the Diaspora community in the Netherlands.
For further information, contact project focal point for Ghana Eric Kwame Akomanyi at IOM Ghana, Email: eakomanyi@iom.int, Phone: +233 20 5549 243 or +233 302 742 930 Ext 2405.